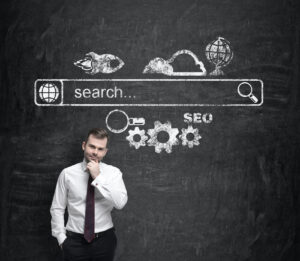 Legal Content Writer Shares Importance of SEO Images for Lawyers and How to Optimize Your Law Firm Website's Photos
Our legal content writer knows that, while "content is king" for your website per Google, the next important part should be that a "images are queen."  According to statistics and research, articles and blogs with images get 94% more traffic than pages without.  Images on websites and blogs have become an integral part of not just creating a nice atmosphere for readers, but also engaging content through use of specific photographs or infographics.  Google, once ignoring the search engine optimization "SEO" utility of images, no longer takes this stance.  SEO images for lawyers is an important part of any law firm website.  SEO for photos is a very important topic that all law firms, especially personal injury law firms, need to know about.
Image SEO is a thing that usually most website owners ignore. But it is also an important aspect of websites, especially for building the online presence of the business. This area is vast and overlaps a lot with normal SEO principles. This is why asking your legal content writer to do the SEO images for lawyers on your website can help, even if it costs a little more money.
So in this article, we will discuss what SEO for photos is, how SEO images for lawyers helps, why it is important, and how you can optimize images for your law firm site. This will help all law firm websites, especially personal injury lawyers.
What is SEO for Photos?
SEO for photos or image SEO is basically a process of delivering high-quality images in a suitable format, resolution, dimension, and size while keeping the smallest possible memory size. The images need to be optimized for the website to keep it moving fast and smooth. Images also need to be labeled correctly and contain text that can be crawled by search engine bots. This is called "alt text" which allows a search engine to know what the image is about, in general.
If your website images are large in size, then your website will take too much time to load, due to which visitors may go back. This thing will increase your bounce rate and negatively affect SEO. So it is essential to do the proper optimization of your website images.
By doing the image optimization, you can improve the user experience and rank better on Google. Below we have discussed these things in detail about SEO images for lawyers.
How to Maximize SEO Images for Lawyers on Your Law Firm Website
Now you what image SEO is. But you might have a question about how you can do Image SEO Optimization for your law firm website. So you don't need to worry because below, we have given you a step-by-step guide to do SEO images for lawyers. Our legal content writer explains how SEO for photos works to help you and your law firm.
Resize Your Images
The very step to do SEO optimization of the images is to resize the images. You need to change the image size as well as file size. This can help images load faster on a website.
Now don't get confused between image size and file size. Image size refers to the dimensions of an image, whereas file size refers to the amount of space required to store the image on a server.
Images with higher resolution and larger dimensions can increase your page load time. So you need to decrease the image size without affecting the image quality.
You also need to compress the image in order to reduce the file size. But make sure you don't compress the image much because it can degrade the quality of the picture. While that might not effect Google's review, clients are less likely to call a personal injury lawyer with a website that has odd images.
Usually, it is best to use images on your site which are less than 100 KB. You can use any of the below websites to compress your images without degrading the quality.
Get a WordPress Plugin to Help with Resizing
You can also use a WordPress Plugin for your image resizing. We love Smush image resizing (not an affiliate link! We don't get any money from this referral!).
This plugin automatically optimizes image resizing for you to help your law firm's website right away. This is the best way to optimize and maximize your SEO images for lawyers without having to do anything more than install the plugin.
The plugin is free, but there is a paid, pro version which offers other additional features. We set it and forget it, which is what must lawyers want to do too.
Choose the Correct Image Format
You also need to pick the correct file format when uploading photos. It may feel like there are endless formats to pick. But the four most popular file formats are:
But we will recommend you to use JPG format for images with lots of colors and PNG for simple images. There are also vector photos which take up a lot of space and require a lot of energy to load. This can slow your website down a lot. Vector images are nicely resizable without stretching an image. But due to their speed deterioration, it is recommended to never use a vector directly without converting it to a JPG or PNG.
Optimize Image File Names
Giving the right names to your image is important for SEO purposes and ranking images in search results. So before uploading images to your server, name them with relevant and descriptive keywords.
Include all targeted keywords at the beginning and separate them with hyphens. Make sure that you don't use underscore because, in this case, the search engine will consider all keywords as one.
The name you give your images should make sense for both Google bots and humans. For example, if you are writing an article on personal injury lawyers in Chicago, then you can give an image name like: personal injury lawyer Chicago. Not something that is irrelevant, like: image_0093.jpeg.
Use ALT Tags
ALT tags are very important for doing the SEO images for lawyers. In fact, alt tags are probably the most important part of SEO for lawyers and SEO for photos. Every single photo on your website needs to have an ALT tags. It is FREE SEO that is not seen by a reader.
This is because ALT tags are hidden text.  While humans can understand what a picture is about, search engines cannot.  Thus, search engine bots need to search for clues to know about photos.
Without ALT tags, it became impossible for search engines to index your image content accurately. In case your images don't load because of any glitch, then also Google can read the ALT text and improve your site ranking.
In the ALT Text field, you can include all the tags that are relevant to your Law firm website content or article. Moreover, you can also include your brand-related keyword to improve site visibility.
HOW TO ADD ALT TEXT TO YOUR WEBSITE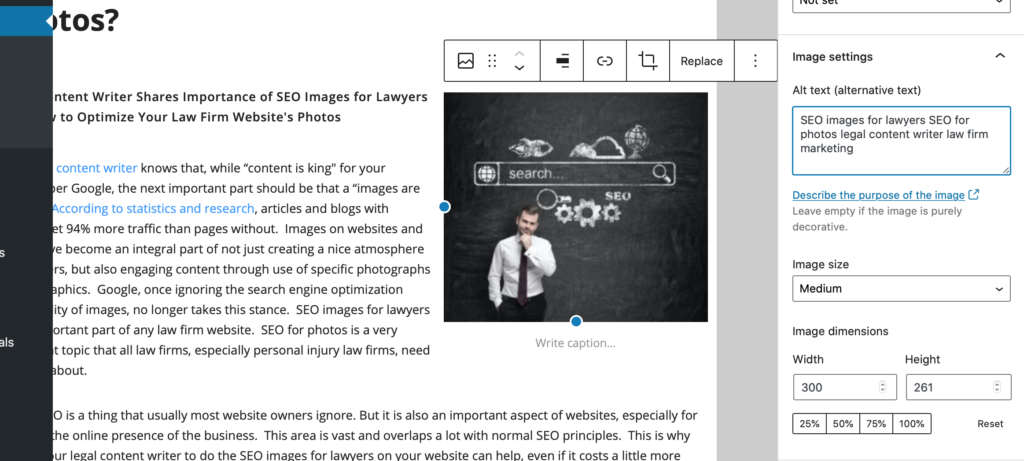 Adding ALT text to your website's photo is easy. I will show you how I did it for this post.
STEPS for ALT Text (WordPress):
Start a blog post in the "posts"
Type away your excellent content (or hire a legal content writer to do it for you)
Add an image to your post page
Click on the image and you'll see a bar with like the bar at the top of the image below (square photo of mountain, 6 dots, up and down arrow . . . "Replace" and then three vertical dots"
Click on the three vertical dots
Click "Show More Settings"
On the right side of the screen a new box will open up with "image settings" and "alt text (alternative text)"
Type in the relevant focus keywords and buzzwords from your adwords research
That's it! It will automatically stay there. Make sure to update if you already posts, or hit save draft or Publish when you are ready.
How Many ALT Text Should I Use?
Although there is no limit on how many alt tags you should use, it is recommended to use 10 to 15 tags to convey something about the image. This is text that the reader will not see, only the search engine. So having as many possible and descriptive tags as possible will only help your website. Our legal content writer can help do image tags for you like ALT tags.
Optimize Image Title
If you use WordPress, then the image you upload will have the same title as the file name. If you think that title is okay, you can remain it as it is.
But in case if you are not using WordPress or you think that the image title is not accurate, then you can change it. Image Title is not as crucial as ALT tags for SEO purposes, but they provide additional context to the alt text.
Moreover, you can also use the title to add a brief call to action, such as "Buy Now" or "Download Today."
Use Captions When it Makes Sense
A caption is a small text that is often present beneath images. Although it doesn't impact the SEO directly but unlike Alt Texts, and file name captions are visible on the web page.
As captions are visible on your website, it can help in improving user engagement. Moreover, image captions provide a feel for the overall content to the visitors.
If you don't use captions in images of your law firm website, it might increase your website bounce rate, which will damage your credibility with search engines.
Note that, while captions can be helpful, they can also be distracting. Only use captions when it is appropriate and it will not draw from the value of the post. Not having a caption is okay if it doesn't make sense. While, for comparison's sake, not having ALT text will hurt your SEO. Thus, only use captions when it is appropriate and not distracting.
Use Unique Images that Add Value
Using stock images is good. But it will not provide much SEO benefit to you as the other websites may use the same pictures.
As unique and well-written content is important for SEO in the same way, unique images are also important for it. So whenever possible, try to use unique and relevant in your law firm articles or blog posts. That means taking photos of your firm, maybe evidence in other cases, or your office, to help boost your SEO with relevant and unique photographs. You could even take photographs of stop signs or other traffic patterns near your home or office. The more unique the photograph is, the better it will be for SEO and also clients.
There are various tools available in the market that you can use for designing your own images, and below, we have listed two of them.
Add Structured Image Data
While adding images to your website, you include structured data on your web page. Structured data will improve the ability of search engines to show your website in rich snippets results.
Google Images supports structured data for product images, videos, and recipes. Moreover, you can use Google's Structured Data General Guidelines to know how to add structured data to your law firm website within search engine parameters.
Use Sitemaps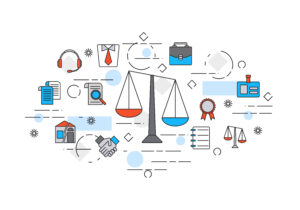 A sitemap is a file where you can list the different web pages of your website and tell Google and other search engines about your site content.
Basically, it is a file that contains a complete map of your site's content. Sitemaps are an essential part of SEO because it is responsible for telling search engines about all the pages of your law firm website.
So if you want the search engine to notice every image of your website, then you need to include them in your sitemap.
Adding image entries includes the title, description, URL location, caption, and license information. Moreover, if you are website is using WordPress, then you can use the famous SEO plugin Yoast SEO. It will automatically add visual content to a site map.
Why Should You Do SEO for Photos for Your Law Firm Website?
There are various benefits of SEO images for lawyers to optimize your website. Below we have discussed some of the main reasons why you should do image optimization for your website.
Improve Site Load Time
Load time means the amount of time taken by a webpage to load completely. The load time of a website depends on various factors, from web hosting company to site layout.
But images also play an important role in the load time of a site. While doing the image SEO optimization, you need to reduce the image size.
As you reduce the image size, it will take less space on the server, and your website will load quickly. Usually, the websites that loads within 2 seconds are loved by the users, and doing this is only possible if your website images are correctly optimized.
However, if your website takes too much time to load, you should fix the image optimization issue. But sometimes there are chances your website is loading slowly because of some other reasons. So if you are sure that your website images are properly optimized, then check for other issues too.
You can use the below two sites to check your website load time.
These two are good sites to check your website load time. All you had to do is enter your website URL, and they will provide you with all the necessary details. Moreover, the website will also tell you about the things you can improve on your site to increase your site load time.
If you see the image optimization suggestion in the improvement section, then you might need to reduce more size of the images. But if you don't see it, then there might be a problem with other technical things of your site, and image SEO optimization is done in the right way.
Improve SEO Rankings
The main reason for doing the image SEO optimization is to improve site ranking on Google. We all know that SEO is very important to rank any site on top of search results.
But your SEO strategy can't get complete without doing the SEO of the images present on your website. When you do the SEO of the images, you do the following things:
Add Alt Text
Name the image files properly
Do Image title optimization
Add image structured data
Now all these things will tell Google that what the image is about and what is the purpose of using that image on the website.
Basically, it will help Google bots to crawl the image and index them in search results effortlessly. Moreover, page load time is also a considerable factor for site ranking.
As I already told you that while doing the image optimization, you will decrease your page load time which will directly improve your law firm site ranking in the search results.
Boost Conversion Rate
When you do the SEO optimization of your images, your site ranking improves, which means the number of visitors on your site increase.
As you capture more users for your site, the conversion rate will automatically increase. Moreover, there is also a direct relation between conversion rate and page load time. So basically, every benefit you get from doing Images Optimization will provide several other benefits.
Enhance User Experience
Optimizing your site images provides you the opportunity to enhance the user experience. User experience depends on various factors like Site UI, page load time, and theme responsiveness.
Actually in all these thing images of your site plays a significant role. If your site images are not correctly optimized, then it might decrease the user experience.
So if you are experiencing a high bounce rate on your site, then it might be because of the images, and you should consider doing the image optimization.
Moreover, SEO-optimized images with proper ALT text and Title not only help search engines but also help users to understand what the image is all about.
Although properly formatted Alt texts and descriptive information are not visible on your site, but it can make a big difference for website visitors who have visual impairments and are using screen readers.
Encourage Sharing
Currently, it's the time of Social media. Most people have accounts on one or more social media platforms. Social media has an excellent capability to make your content go viral.
If you use relevant SEO-optimized images on your site, it will increase your chances of getting posts viral. Properly optimized images of your website will encourage users to share your content due to which will get more traffic on your website.
But all these things are only possible if your images are well optimized to be shared on social media. Because no one wants their social media wall to look ugly because of bad quality and un-optimized images.
Visually Appealing
A well-optimized image worth thousands of words. If you are using high-quality SEO-optimized images on your articles, then your article will look visually appealing to your readers.
Moreover, good quality images also help you in increasing the length of your article. Although it doesn't increase the word count, it can increase the article length visually due to which article will look more detailed.
But while adding images, make sure they are relevant to the context and well optimized. Otherwise, there is no benefit of adding images to your article.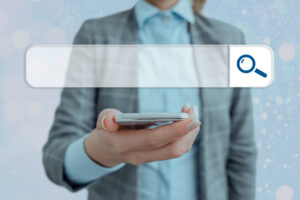 How to Find Free Images for Your Law firm Website and Blog
It is obvious that you can do the image optimization of your site if you don't have the images. So if you are struggling in finding images for your law firm website. Then don't worry because below we have listed five best sites from where you find free images for your website:
How a Legal Content Writer Can Optimize Your SEO for Photos
Yes, a legal content writer such as ours can help improve your SEO images for lawyers. Even though law firm blog writers spend their time drafting content for websites and law firm blogs, images are an important part of marketing. Just think about what ads you have seen or heard that do not have an image? Okay, maybe radio ads are the most obvious—but when is the last time you bought something after a radio ad?
Images are so important for marketing. Yes, law firm blogs are meant to help your website's SEO by getting it to the top of search engine results. It is not necessarily a straight advertisement. However, many clients will find that an advertisement in a blog can cause them to call for help. And law firms using blogs to cover a wide range of practice areas or injuries can really help to get more clients.
Thus, a blog post get you new clients as is. One of our blogs got a $3.6 million case for a medical malpractice client. That's powerful and the type of cases you need.
Ask NAB Legal Marketing's Legal Content Writer to Get You Strong SEO Images for Lawyers
We know how to market. We have been going it for over a decade. If you own a law firm or if you are a personal injury lawyer looking to get new clients, ask us for help. We know everything about SEO that a lawyer needs to know. From writing the law firm website and blog content, to off-page SEO, backlinks, and optimizing SEO images or SEO for photos, learn how we can help you during a FREE consultation.
Send us a convenient email through our "contact us" box available here to learn more about SEO images for lawyers.